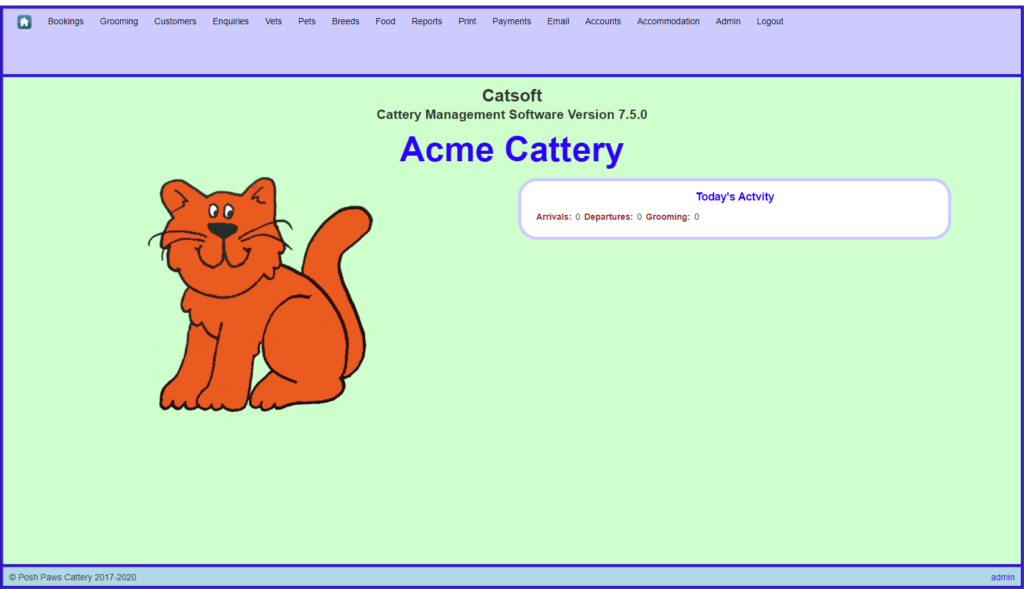 Catsoft is a web based application to help with running a boarding cattery.
Some of the features are as follows:
Add/edit/delete customers and pet details
Add/edit/delete bookings
Send booking emails and booking reminder emails
Send booking texts and reminder texts
Different user levels – administrator, owner, user
Fully customisable accommodation details along with prices
Keep track of accounts by adding expenses/suppliers etc.
Print off yearly account details
Print booking forms and GDPR forms
Print unit labels
Download
This is a version of Catsoft that has been packaged for Windows. Please see the installation instructions for details of how to run it.
A demo is available online at https://catsoft.while.org.uk
Documentation is available at https://www.while.org.uk/documentation
Please report any problems on the problems page.
To login use the following details:
Username: admin
Password: password
Some features have been disabled – no emails or texts can be sent. Postcode lookup has been disabled. Also server based printing is disabled.